IFA's Hand Counting Paper Ballot Model
In this video, learn why it's necessary to hand count ballots vs electronic voting machines.

Hear the narratives that elected officials use as arguments against hand-counting ballots.

The data and this plan demonstrate that hand counting works, is more reliable, and can be accomplished in a few hours.

Learn how to get involved in IFA at your local level, and share this process with your clerk and election boards and legislators. Local action has local impact!!
We'd like to extend a special Thank You to Linda Rantz, Missouri Cause for America-Missouri. She and her team have worked tirelessly to analyze, practice, and perfect the processes of hand counting paper ballots. It can be done! She is a fearless warrior in the election integrity fight and we here at Indiana First Action/Cause of America-Indiana are proud to call her friend.
To see Missouri's comprehensive model and resources, click here.
Our Mission
Indiana First is a grass roots citizen-driven team which banded together in July, 2021 with a mission to ensure that Indiana's elections were going to represent the will of Hoosiers. We have seven main subgroups all focused on evidentiary analysis to discover the truth about our elections. We have one non-negotiable, which is every single legal vote counts, whether it be left, right, up, down or otherwise and nothing is more important than the faith we should all share in our elections processes and the trust we have in the results.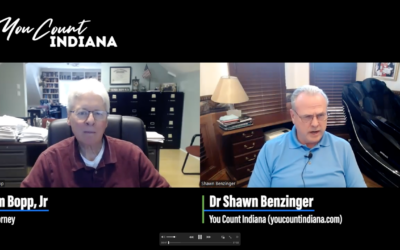 Attorney Jim Bopp, Jr. Interview. Dr. Shawn Benzinger interviewed Indiana attorney Jim Bopp, Jr. He has helped many Indiana Conservatives with legal issues including campaign finance concerns. They discussed election integrity including dirty voter rolls in Indiana....
read more
BY ADDING YOUR NAME TO "JOIN THE MOVEMENT", YOU EITHER CHOOSE/AGREE TO RECEIVE EMAILS. MESSAGE FREQUENCY VARIES.
INDIANA FIRST ACTION (C) 2023 ALL RIGHTS RESERVED.